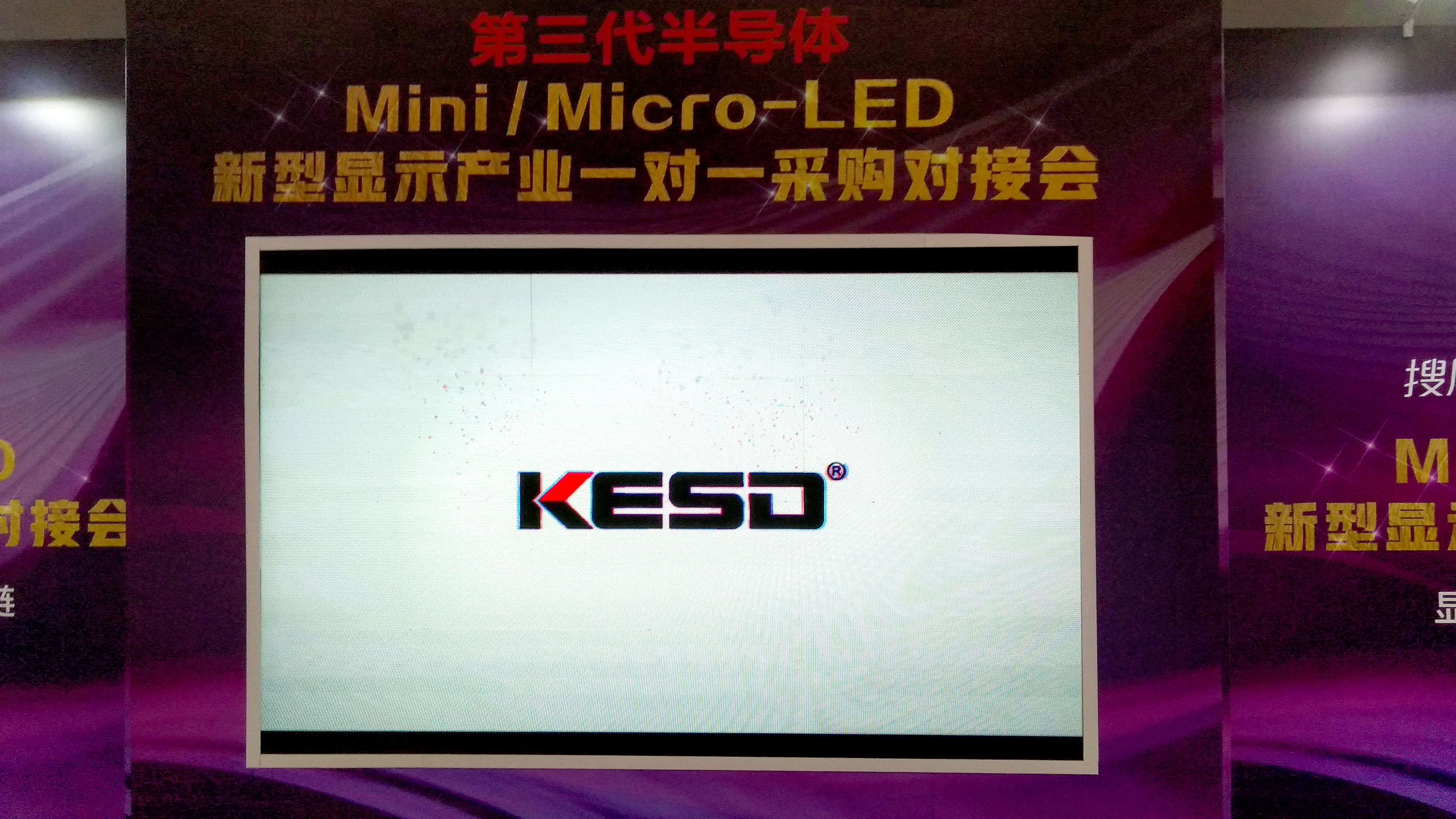 along with5G is officially commercialized, smart terminals,Chips, modules,Flexible displays, curved glass, and car displays will be used in smartphones, tablets, smart home appliances,The VR/AR and intelligent driving fields usher in a spurt of growth!
This exhibition is the China Communications Industry Association (CCIA) Hosted by Huawei, Samsung,LG, BYD, Xiaomi, BOE, Foxconn, Bourne Optics,VIVO、OPPO, Huaxing, Tianma, etc.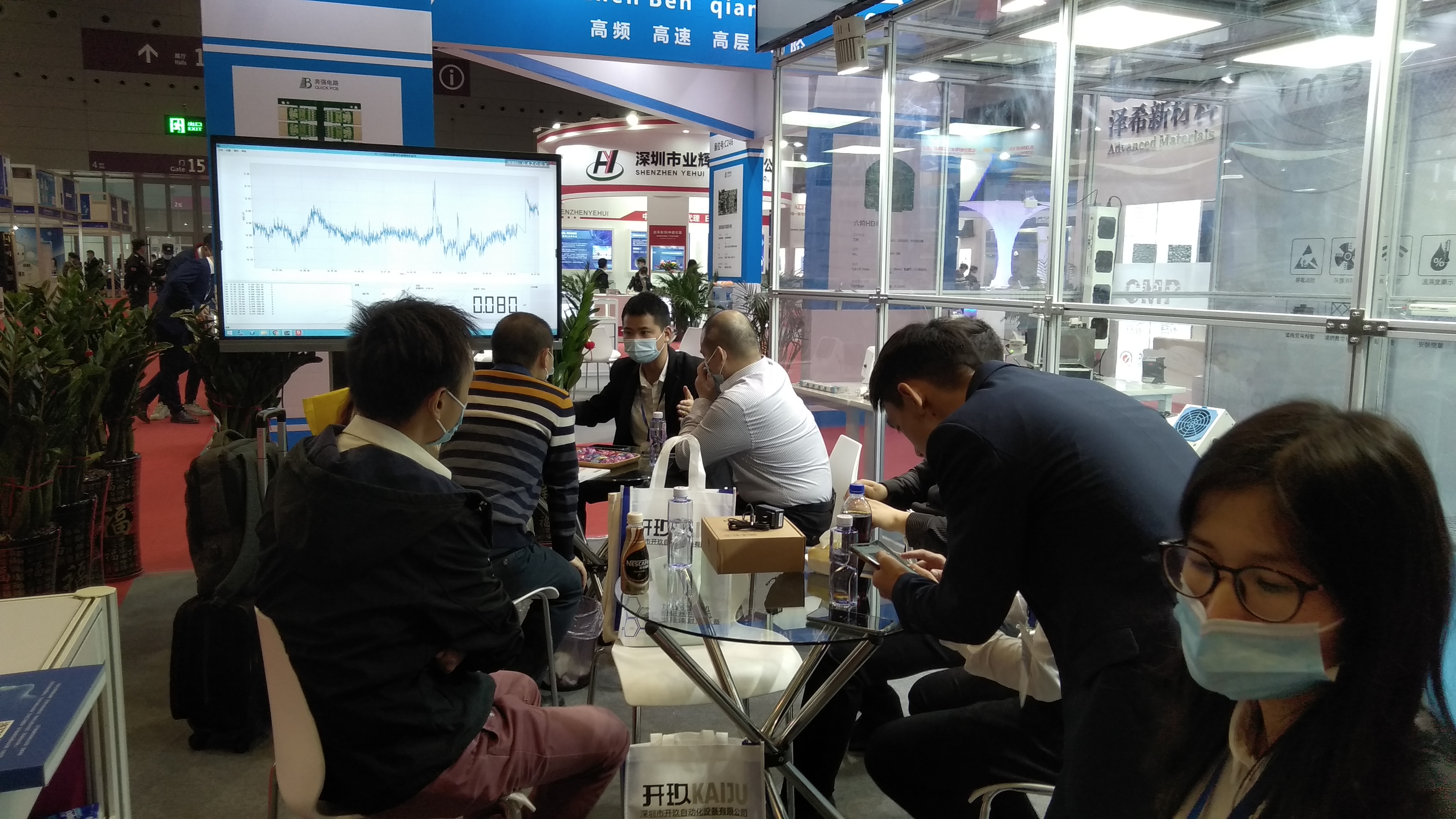 KESD has more than 16 years of experience in the industry. Since its establishment, KESD has persisted in implementing a corporate culture based on the company's business philosophy, won the trust of the Yangtze River Delta, Pearl River Delta and overseas markets, and has become a top 500 company. Designated anti-static product supplier, The company produces and sells a series of industrial antistatic equipment based on the international cutting-edge technology of industrial antistatic. It mainly includes ion fans, ion wind nozzles, ion wind rods, ion wind knives, dust removal boxes, space static removal, non-contact electric field sensors, and low-power wide-area Internet of Things ESD digital static monitoring systems. Products are widely used in semiconductors, Optoelectronics, precision electronics, new energy and other electronic manufacturing subdivisions, as well as printing, pharmaceutical, film, petrochemical and other industries. The company is a national high-tech enterprise with independent brands: KSD and KESD. In terms of industrial applications, the company has always focused on the static elimination and protection needs of advanced manufacturing enterprises, built a domestic first-class R&D team and production and service system, has a number of domestic and foreign patents, and strictly implements the ISO9001 quality management system. Oriented by customer needs, we continue to innovate and continue to provide customers with satisfactory static elimination equipment and services, making KST become the trust of Fortune 500 companies such as Huawei, Tianma Group, BOE, OPPO, Sony Group, Sanyo, Panasonic, Samsung, BYD, etc. Our electrostatic equipment partners are exported to Europe, America, Japan and Southeast Asian countries.At present, KST has become a leading enterprise in the domestic industrial antistatic equipment industry, and its market share, R&D investment and number of industry patents are among the top three in the domestic industry.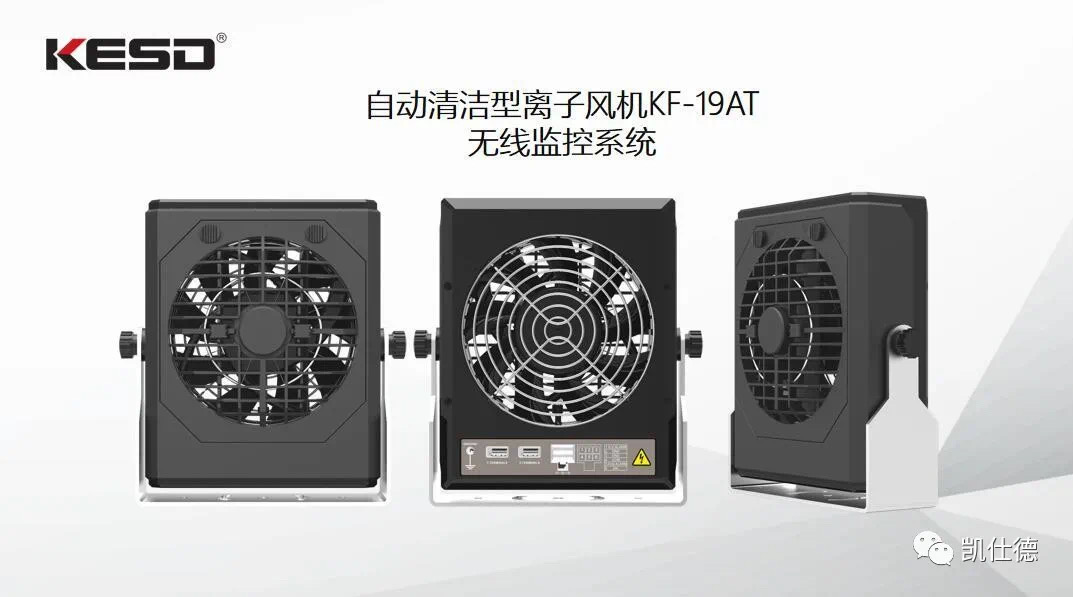 There is room for static electricity in the exhibits of this exhibitionFFUPurification integrated unit,ESDIntelligent monitoring of IoT systems, ion fans, ion wind rods, ion wind nozzles, ion wind guns, etc., in order for customers to have a more intuitive understanding of our productsFFUPurification integrated unit,KESDBuilt a18The clean room of square meters provides customers with a more intuitive understanding and experience of our products;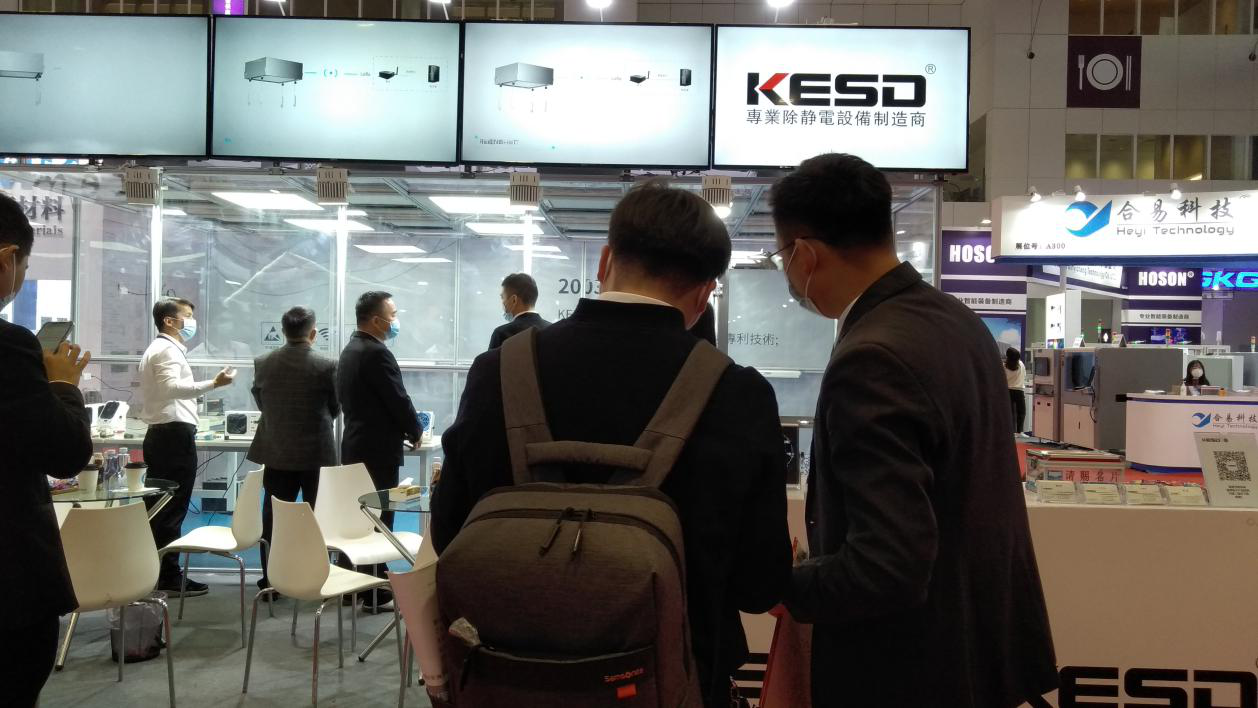 According to the demand for dust removal and static electricity removal in the clean room of the domestic manufacturing industry, Kai Shide starts from the interests of customers, reduces costs for customers, and through technology research and development,FFU+Combination of static elimination equipment to achieve the trinity of static elimination, dust removal and filtrationSpace static eliminationDust removal and purification unitKU-50It reduces the cumbersomeness of customers purchasing equipment, simplifies the layout of clean space equipment, and creates a clean environment with safety standards and dust-free and static-free.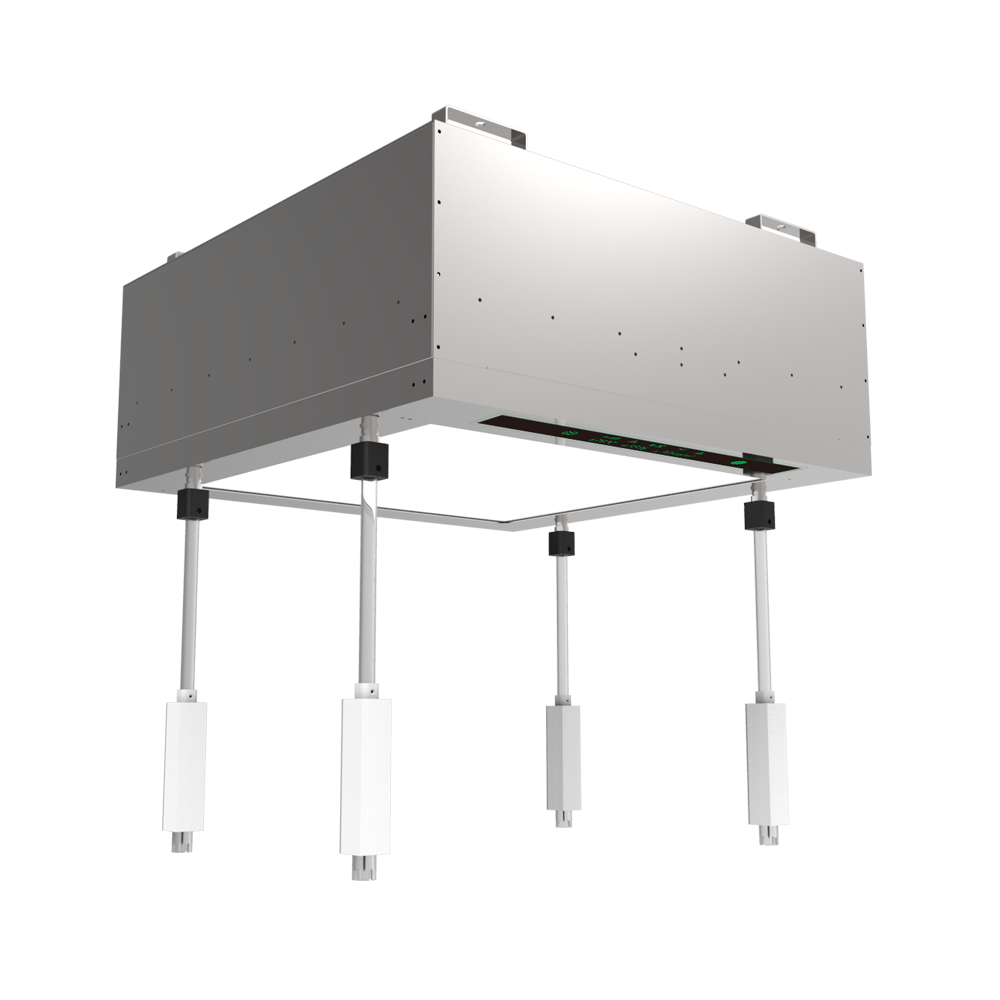 KU-50Has the following characteristics
1, Equipped with static and dust removal functions;
2, Equipped with wireless network monitoring function to realize wireless monitoring;
3, Equipped with temperature, humidity and dust particle display and detection functions;
4, Equipped with motor normal operation indicator and abnormal alarm indicator;
5, Equipped with a normal lamp in addition to static electricity and a high-voltage abnormal alarm indicator;
6, Equipped with filter normal operation indicator, cleaning reminder and replacement alarm indicator;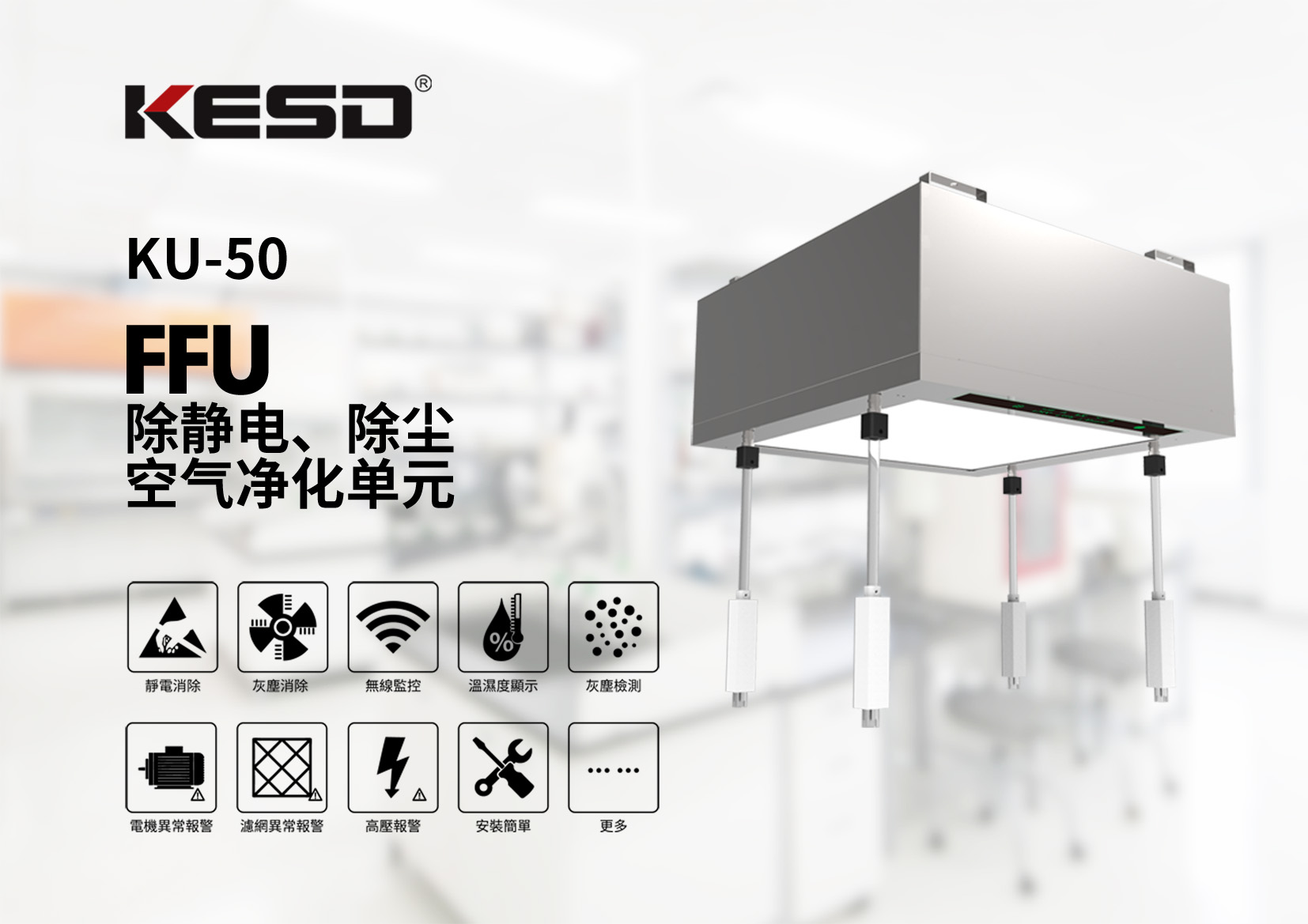 KU-50The intelligent display panel is convenient for intelligent management, which can display normal operation indicator light, air volume display, motor fan abnormal alarm prompt, filter cleaning prompt, wireless connection prompt, high pressure alarm lamp, temperature display, humidity display, dust content value, remote control And other functions. Achieve a clear view of equipment usage. The wireless network connection can be connected with computers and other terminals to realize intelligent management and provide industrial intelligent upgrade solutions for the manufacturing industry.