How to Use Anti-static Ion Fan?
Views:17 Author:Site Editor Publish Time: 2017-07-07 Origin:Site
It is known that ionizing air blower can remove the anti static effectively.
It has excellent anti static performance, which will prevent electrostatic pollution and damage. And it is the ideal equipment which can be used in the electronic production line, maintenance desk and other personal electrostatic protection area.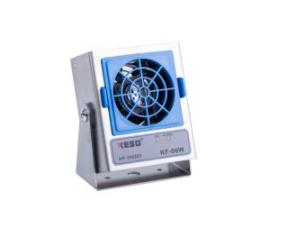 The interior of the refrigerator is ABS material, which produces very high static electricity after stamping, and most of the environment in which the refrigerator is produced is a common environment that can cause the surface of the plastic material to adsorb large amounts of dust in the air and it is stubborn. No matter what you will wipe the refrigerator, dust will be adsorbed up after a while.
We can choose two ways to solve this problem, one is to control the number of dust, and construct the clean room (but it is difficult to do so, the project is too large, the cost will be high); Second, eliminating the static electricity of the plastic surface which can avoid the dust adsorb. As the entire production process is the pipeline operation, and there are a lot of stations . Each process will produce static electricity due to repeated friction and handling. Factory should install ion fan in each station, in order to meet the needs of removing dust. It is recommended that you should use combine dust static eliminator is used together.