How to use ionization blower correctly?
Views:0 Author:Site Editor Publish Time: 2017-05-26 Origin:Site
Many companies regard the desktop ionization fan as normal fun. They will think that the product is not damaged and the appearance is not damaged, so it can be used for a long time. In fact, this is wrong.
solution:
(1) Cross-sectional area of ​​the ground wireDesktop ionization fanIt should not be less than 100mm2; the cross-sectional area of ​​the trunk line should not be less than 6mm2. The ground wire of the equipment and the workbench should be a multi-strand plastic wire with a cross-sectional area of ​​not less than 1.25 mm2, preferably a yellow-green wire.
(2) The connection of the ground wire duct of the desktop ionizer fan should be brazed.
(3) Desktop anti-static systemionizationThe fan must have an independent and reliable grounding device. The grounding resistance should generally be less than 10% of GBJ 97 requirements.
(4) The desktop ionization fan uses a three-phase five-wire power supply, and the ground wire can be used as an anti-static ground (but the neutral wire cannot be mixed).
(5)Case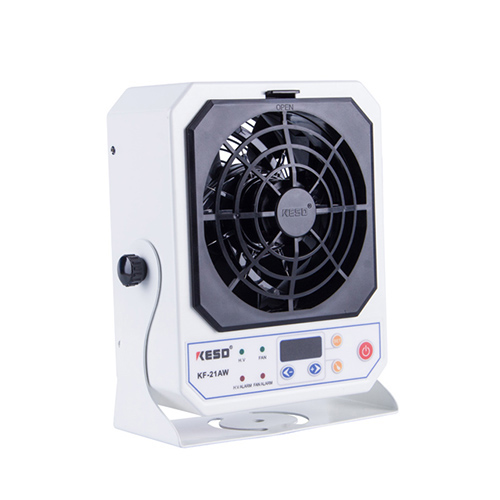 Terminals of anti-static equipment should ensure reliable contact, easy to assemble and disassemble, and allow the use of various clip connectors, such as fish clips, plug seats, etc.
(6) The anti-static grounding cannot be connected to the zero line of the power supply and cannot be shared with the lightning protection. Because lightning and other phenomena will affect product performance through circuits and personal safety.
(7) For workplaces where desktop anti-static fans have high requirements for grounding resistance, a grounding system monitoring alarm should be installed. For example, the grounding system monitoring alarm produced by our company can monitor the grounding and whether the grounding is good at any time.